Preparations for the invasion of England, August 1513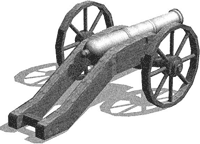 In 1511, a group of 26 experienced French gunners or 'melters' arrived in Scotland to work under the command of Robert Borthwick who was in charge of the royal foundry at Edinburgh Castle. They were employed to build guns and cannon for the king's army. James IV had already increased the size and strength of his fleet of armed ships and work continued on the construction of the 'Great Michael', completed in 1512.
Meanwhile, diplomatic attempts to end hostilities between Henry VIII of England and Louis XII of France failed. In June 1513, Henry invaded France. The following month, James took action and sided with Louis. He was prepared to break the terms of the Treaty of Perpetual Peace, resume hostilities against England and face excommunication from the Church. Pope Julius II had started this process before his death in February 1513 and his successor, Pope Leo X, completed it. The scene was set for battle.
James sent the Scottish fleet to France and sent an envoy to Henry to ask him to end his siege of French towns. James also ordered his forces to gather at Ellem in Berwickshire to prepare for an attack on northern England, where he planned to capture Norham Castle on the River Tweed.
The Accounts of the Lord High Treasurer of Scotland provide insight into the detailed preparations for James IV's invasion in 1513. Large quantities of iron and other metals were bought from France and Flanders to make tools and cannon. By mid-August 1513, teams of drivers and oxen were hired to guide 16 newly built cannon out of Edinburgh on the journey south. The cannon, called 'culveringis' or 'pikmoyane', were built in four sizes, ranging from the largest that needed 36 oxen and 9 drivers each to the smallest that required 8 oxen and 6 drivers. Each cannon was accompanied by groups of up to 20 men, described as 'pioneers', who levelled the road as required with picks and shovels, and operated ropes on each to help the oxen going up and down steep hills. Smiths made 20 pairs of giant wheels fitted with iron tyres to transport them and supplies of tallow and grease were prepared to oil the axles. Carpenters made carts to carry gunpowder and 'gun stanis' or cannon balls that were loaded into baskets. The records state that at least fourteen carts were used, 12 carrying the ammunition and 2 carrying the pioneer's heavy tools.
James planned to complete his campaign in three weeks and on 18 August, wages were paid in advance to the drivers and pioneers. Both received a shilling [12 pence] a day for the 14 days they were in Scotland and 16 pence a day for the 8 days they were in England. The wage bill whilst the campaign was in Scotland amounted to 118 pounds Scots and whilst in England amounted to 178 pounds Scots (the equivalent of approximately £760 and £1,120 in today's money).