You are here:

Home

> Resources > Scottish Wars of Independence > Wallace's Mysterious Mission, 1299-1302
Unit 5: Wallace's mysterious mission, 1299-1302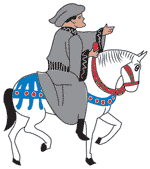 This is a mysterious period in the life of William Wallace as he disappears from Scottish records. Historians know that he was definitely in France in 1300 and intended to go on a diplomatic mission to Rome to put Scotland's case to Pope Boniface VIII. John Balliol remained in papal custody in France where he held family lands in Picardy. Some Scots hoped that he could return as king. Was this part of Wallace's mission?
We know that King Philip IV of France provided great financial support to Scots in France, including Wallace. In November 1300, Philip provided him with a letter of recommendation, asking his agents in Rome to encourage Boniface to treat Wallace favourably. This letter has survived and other records show that both Scotland and England presented their well-argued cases to the Pope in 1301 but we do not know if Wallace ever reached Rome.
Balliol never returned as king of Scotland. French discontent arose with Pope Boniface and in May 1303, England and France agreed a peace treaty which left King Edward I free to invade Scotland again. This loss of Scottish allies undermined its cause.
View the timeline of events in the Scottish Wars of Independence
Letter of recommendation in favour of Wallace by King Philip IV to his agents at Rome
(Reproduced courtesy of The National Archives, reference SC1/30/81)
Translation
Philip by the grace of God King of the French to our loved and faithful our agents appointed to the Roman Court, greetings and love. We command you to request the Supreme Pontiff consider with favour our beloved William le Walois [Wallace] of Scotland, knight, in those things which he has to transact with him. Given at Pierrefonds on Monday after the feast of All Saints. [7 Nov 1300]