Unit 6: Wallace's final years, 1303-1305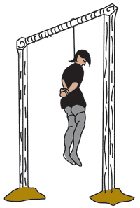 Wallace was back in Scotland by early 1303, leading raids against the English and avoiding capture. Edward I retaliated. By the summer of 1304, Edward had captured Stirling, secured his grip on Scotland and forced many Scottish leaders into submission. Edward continued to pursue Wallace who refused to submit to him.
On 3 August 1305 Wallace was betrayed and captured by Sir John Menteith, keeper of Dumbarton Castle. He was tried in London for treason and other crimes, and on 23 August 1305, he suffered a traitor's death. His dismembered body was put on public display in England and Scotland.
English Exchequer accounts for 1304-05 record the cost of Wallace's execution, describe his death and shed light on how his resistance was regarded in England. He is described as one who throughout Scotland had falsely sought to call himself king of Scotland.
View the timeline of events in the Scottish Wars of Independence