The Eyemouth Fishing Disaster, 1881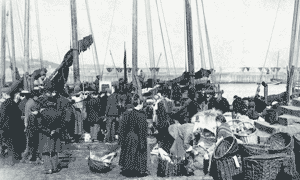 Scotland is famous for its frequently wet and windy weather. It lies in the path of eastward-moving Atlantic depressions which bring wind and clouds throughout the year, and is frequently hit by windstorms during the autumn and winter.
A severe storm struck the southern coast of Scotland on 14th October 1881, leading to the Eyemouth fishing disaster or 'Black Friday' as some locals call it. The Edinburgh Evening News reported the storm on Saturday 15th October:

A storm of extraordinary violence set in on Thursday night and raged for the greater part of yesterday all over the country, causing great distruction to property and loss of life. All telegraphic communication between Scotland and the Metropolis was broken down by the wreckage of the wires and in several parts of the country similar isolation has occurred. Hundreds of magnificent trees have been torn to pieces or uprooted and cast across the roads, rendering traffic impracticable. From all parts of the country floods and serious agricultural havoc are reported. Railway traffic, in consequence of the distruction of signal posts and wires, was carried on with difficulty and the drivers of express trains report that they could scarcely maintain their footing on the engines. Snow lies deep in the north and the lower ranges of the Grampians have also received a coating of snow.
Fishing was an essential part of the local economy in Eyemouth: the men went fishing and the women supported them by baiting the lines and repairing nets. The sudden windstorm in October 1881 blew up while the fishing boats were out at sea and caused the deaths of 189 fishermen, of whom 129 were from Eyemouth itself. Many of the fishing boats capsized; others were wrecked on the rocky coastline. There was an occasional miraculous story of survival against all the odds: the fishing boat, the Ariel Gazell, arrived back in Eyemouth harbour two days after the storm, having survived, but largely the stories were of death, destruction and loss.
The lives lost in this natural disaster are commemorated by a tapestry in Eyemouth Museum.