The Failure of Darien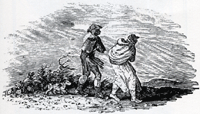 The venture was a disaster with the loss of over 2,000 lives and a great deal of money, a quarter of Scotland's liquid capital. The Scots colonists had settled on land claimed by Spain and William, who wanted to maintain peace in Europe, refused to support them. He forbade English colonies in the area to assist the Scots. Sick and starving, they finally surrendered to the Spanish and abandoned the colony in 1700.
This caused a furious reaction in Scotland. Towns and cities petitioned Parliament and the Church of Scotland declared a fast day. Addresses were sent to the King asking him to support the colony. Parliament met in May 1700, but was speedily adjourned before the commissioners could debate the issue of Darien.
The Peoples' Complaints
On 30 May 1700, the day that Parliament was adjourned, Hugh Paterson, a surgeon apothecary, and James Wilson, a printer, issued a pamphlet addressed to Parliament in Edinburgh raising Scotland's grievances. They included a list of insults to the nation. Paterson and Watson were imprisoned in the tolbooth in Edinburgh for their actions but were later freed during a riot by a mob that agreed with their complaints.
The People of Scotland's Groans and Lamentable Complaints Pour'd out before the High Court of Parliament.
We beg of You to consider, how Our Soveraignty and Freedom is Violated, Our Laws trampled upon, and our Trade interrupted; how Our Brethren have been Starved and made Slaves, Our Colony deserted, and Our Ships burnt and lost A-broad; whilst Our Petitions have been rejected, Our Company baffled, Our People Famish'd, Our Metropolis burnt, and flames of Division kindled amongst Us at Home.
We intreat You to consider, how they that ought in Kindness, nay in Gratitude, to have let Us had Provisions for Our Money, whilst they enjoyed Plenty, and ought to have Protected Us with their Ships, since We are under one Sovereign, and have lost so many Men in their Service by Sea and Land, suffered Us to die for Want, and would not let Us have the Use of Our own Friggots, that were built at Our own Charge.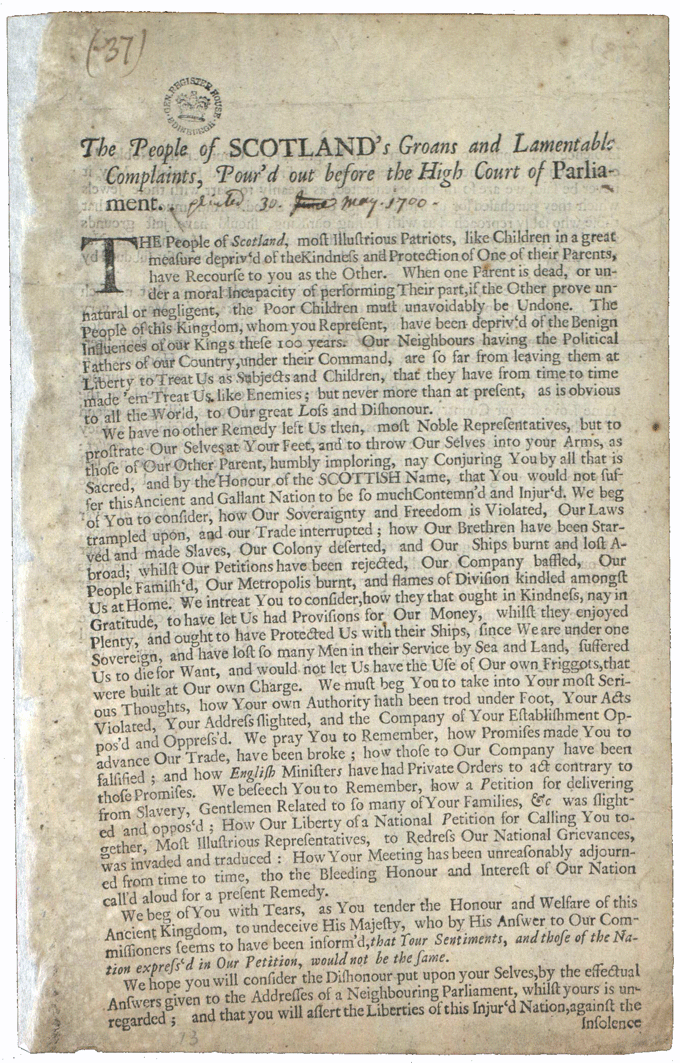 A full transcript of the first page of The People's Complaints is available as an Acrobat PDF file (422 KB, opens in new window).
(National Records of Scotland, Parliamentary papers, PA7/17/1/21A p.1)
Parliament's Complaints
On 10 January 1701, the Scottish Parliament recorded its views in the minutes of proceedings, criticised William's foreign policy that seemed to favour the interests of his English subjects and denounced the English Parliament's actions. The affair highlighted the problem of two Parliaments pursuing competing policies under one crown. The King suggested union as a solution.
…the Address of the House of Lords presented to his Majesty in February last, were an undue Intermeddling in the Affairs of this Kingdom, and an Invasion upon the Soveraignity and Independency of our King and Parliament.
… that the Proclamations emitted in the English Plantations in April, May, June and September 1699, against our Indian and African Company, and the Collony of Caledonia, were, and are Injurious and Prejudicial to the Rights and Liberties of the said Company and that the execution of these Proclamations against the Adventurers sent out by the said Company was Inhumane, Barbarous, and contrary to the Law of Nations, and a great occasion of the Loss and Ruine of our said Collony and Settlement of Caledonia.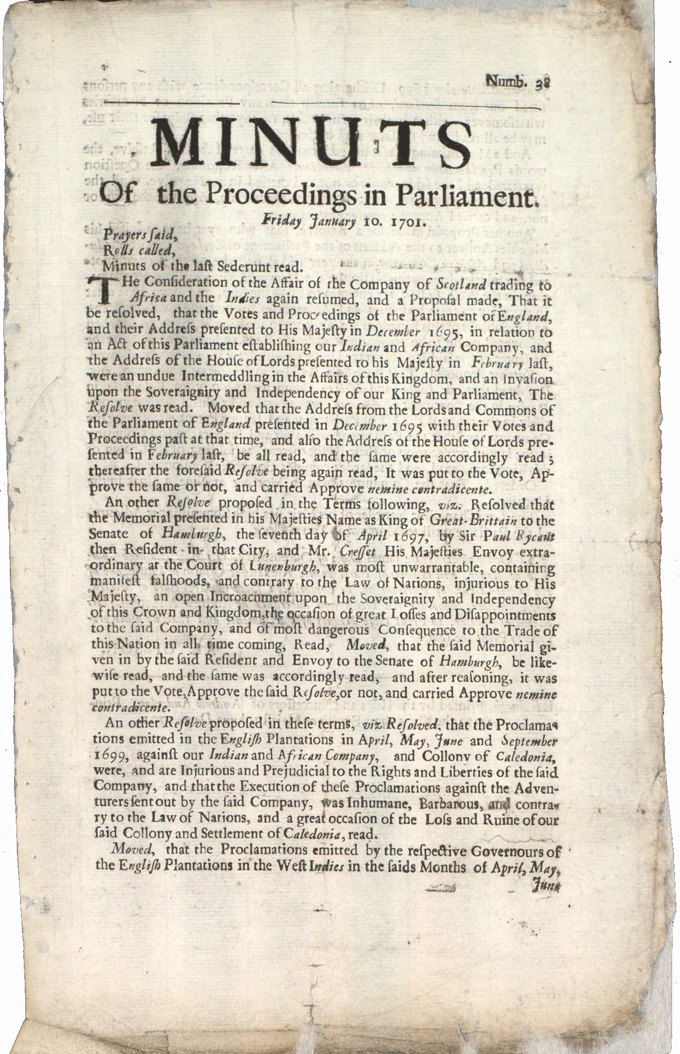 A full transcript of the first page of Parliament's Complaints is available as an Acrobat PDF file (420 KB, opens in new window).
(National Records of Scotland, Minutes of Parliament, PA3/6/26)