The Articles of Union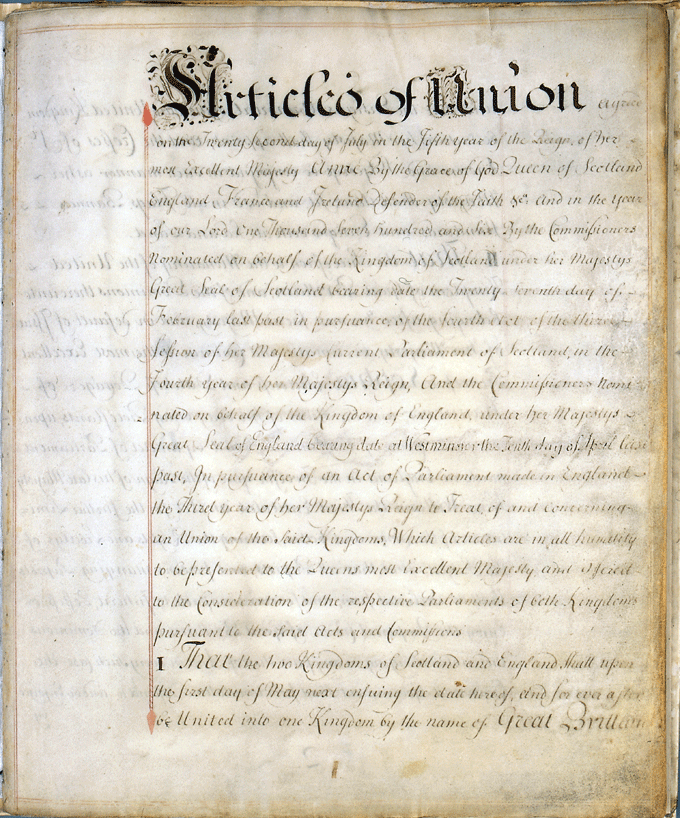 A full transcript of the first page of the Articles of Union is available as an Acrobat PDF file (293 KB, opens in new window).
(The first page of the Articles of Union, National Records of Scotland, State Papers, reference SP13/209)
This list summarises the 25 articles. Fifteen of them dealt with economic measures. A full but simplified list of the articles is also available as an Acrobat PDF file (550KB, opens in new window).
Rules of Government
Rules of Trade
Tax Rules
Rules of Government
Article 1
On 1 May 1707, the two kingdoms of Scotland and England shall be united into one kingdom GREAT BRITAIN and the crosses of St Andrew and St George be joined and used in flags, banners, standards and ensigns at sea and on land.
Article 2
The succession to the throne of Great Britain will pass to the Protestant heirs of Princess Sophia of Hanover and all Papists shall be excluded from the Crown of Great Britain.
Article 3
The United Kingdom will be represented by one and the same Parliament to be called the Parliament of Great Britain.
Articles 18-19
Scotland will keep its own separate laws, legal system and courts of law.
Articles 20-21
The Royal Burghs of Scotland and those holding heritable jurisdictions i.e. posts and offices granted for life, will have their rights and privileges preserved after union.
Articles 22-23
Scotland will be represented by 16 peers in the House of Lords and 45 members of Parliament in the House of Commons in the first Parliament of Great Britain. Scottish peers will have the same privileges as English peers.
Article 24
After the Union, there will be one Great Seal for Great Britain but Scotland will retain use of the Great Seal of Scotland for matters relating to private rights or grants. The Scottish Crown, Sceptre and Sword of State and all Scottish public and private records will be kept and will remain in Scotland.
Article 25
The final article revokes all previous acts that might operate against the union and confirms the full authority of law in passing the Act of Union.
Rules of Trade
Article 4
All subjects of Great Britain will have freedom of trade within the United Kingdom and with her colonies.
Article 5
All trading ships will be registered with Customs Officers in Great Britain.
Article 6
Great Britain will operate the same trade regulations and be liable for the same customs and duties on imports and exports.
Article 7
The level of excise duty on liquor set across England will operate throughout Great Britain.
Article 15
Scotland will receive the sum of £398,085 10s sterling, known as the Equivalent:
to reimburse Scottish investors for their losses in the Darien colony


to close the Company of Scotland Trading to Africa and the Indies


to pay overdue salaries to Scottish government officials


to invest in promoting the fishing industry, the manufacture of coarse wool and other industries in Scotland


to help Scotland pay new taxes due in the future from the British Parliament.
Article 16
Great Britain will use the same currency. Coins minted in Scotland will have the same value as those minted in England.
Article 17
Great Britain will use the same form of weights and measures. The Scottish system will be abolished and replaced with the English system.
Tax Rules
Articles 8-14
Scotland will pay
a new land tax


new taxes on salt and malt but not until 1710


duties on windows and lights, and on coal, culm [coal dust] and cinders but not until 1710.
Scotland will not pay
duties on stamped paper, vellum and parchment.