The End of the Scottish Parliament
The last volume of the Acts of Parliament breaks off dramatically in mid-sentence on 27 November 1706, in the middle of a debate about the sixth article of union and export duties. This register was compiled from minutes of proceedings in Parliament and other papers that still survive to record the final few months of its existence.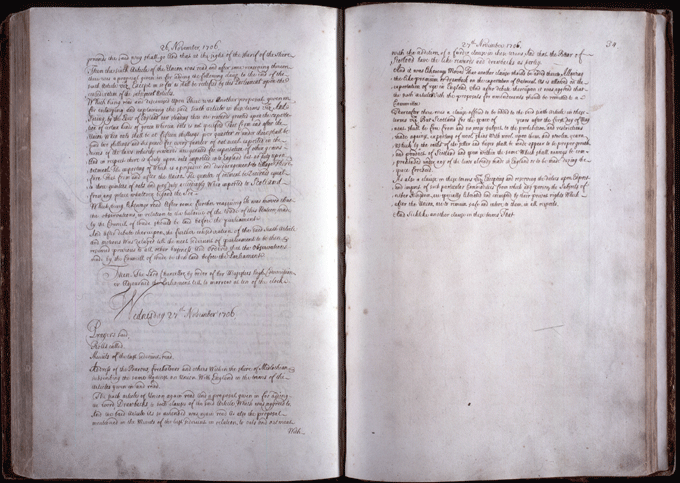 We do not know the reason for the sudden halt in the register. As these volumes were written up considerably later than the events they recorded, it is unlikely that the clerk was stopped by anti-union rioting. As the clerks were employed personally by the Lord Clerk Register, one possible explanation is that this clerk, John Corse, stopped work when he heard of the death of the Clerk Register in 1708, thinking that he might not be paid.
Transcript of the entry for Wednesday 27 November 1706:
Wednesday 27th November 1706

Prayers said

Rolls called

Minuts of the last sederunt read

Address of the Barons, freeholders and others within the shire of Midlothian subscribing the same against an Union with England in the terms of the articles given in and read.

The sixth article of Union again read and a proposal given in for adding the word, Drawbacks, to both clauses of the said article…

As also a clause in these terms viz. Excepting and reserving the duties upon Export and import of such particular Commodities from which any person the subjects of either Kingdom, are specially liberated and exempted by their privat rights which after the Union, are to remain safe and intire to them in all respects

And Sicklike another clause in these terms That
(National Records of Scotland, Acts of Parliament, PA2/39)