The Battle of Flodden and the aftermath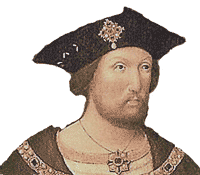 James IV left Edinburgh around 19 August 1513 and by the end of the month his army had captured four castles in the Borders including his main target, Norham. On 29 August, according to the Treasurer's Accounts, the king ordered further supplies of cannon wheels, cannon balls and oxen from Edinburgh and continued his offensive taking up position on Flodden Hill near the village of Branxton in Northumberland.
The English army, led by Thomas, Earl of Surrey, took up position north of Branxton, blocking a Scottish retreat. Accounts vary as to the size of each army, from 15,000 to 20,000 men. The battle took place on the afternoon of 9 September 1513 which resulted in the defeat of the Scots, the death of King James IV and the deaths of a large proportion of Scotland's ruling class - the earls, lords, bishops and abbots - as well as many thousands of ordinary Scottish supporters.
James IV was succeeded by his infant son who was crowned at the Chapel Royal in Stirling on 21 September. As James V was only 17 months old, his mother followed by the Duke of Albany, James IV's French cousin, governed Scotland as regents until the infant king reached his maturity in 1528.
James IV died supporting King Louis XII of France against Henry VIII. Henry made peace with France in 1520 and for the remainder of his reign, until 1527, he was preoccupied with the succession to his throne, the Protestant Reformation and his break away from the Catholic church.
James IV made significant cultural achievements and increased Scotland's national prestige at home and abroad but his premature death, like that of his father, James III, and years later of his son, James V, weakened the monarchy and the royal Stewart line from Mary, Queen of Scots to James VI.