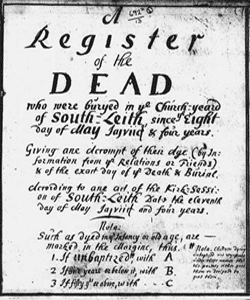 Genealogy Research Project for Secondary School Pupils
The study of genealogy is an interesting and challenging approach to developing young people's knowledge, understanding and experience of social history, citizenship and identity. This year we are offering a new course designed to give pupils the opportunity to undertake a small research project into family history and produce a simple family tree.

As a starting point, pupils will be required to interview family members to gather known facts. They will have to plan and organise the detailed recording of evidence and tackle some degree of problem solving to work with the various records of births, marriages and deaths. Instruction will be given in how to read and interpret these and other primary sources such as the census, wills and valuation rolls.
Information for class teachers:
Pupils must have Scottish ancestors to undertake the course i.e. relatives who were born, married or died in Scotland.
It is open to pupils aged 14 and over. Those aged 14 and 15 are required to provide a letter of permission and a contact telephone number for a parent or legal guardian before they are allowed access to the historical records.
The course is free and is delivered in General Register House, Edinburgh in 2 x 2 hour sessions. Pupils will work with our Education staff to undertake their research.
Please contact us to discuss suitable dates and times which must be agreed at least 2 weeks in advance of the first session. Download a genealogy course booking form (Rich Text Format, 1.4 MB, new window), complete and return it to us at the address below to confirm your booking. You will receive confirmation by email within 5 working days.
Email: education@nas.gov.uk or tel: 0131 535 1340
Education Services
National Records of Scotland
H M General Register House
2 Princes Street
Edinburgh EH1 3YY