Source 4: First crash, November 1915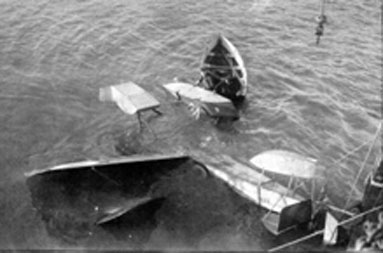 Douglas Hume, now stationed at Calshot Naval Air Station, near Southampton, describes his first crash in a Schneider seaplane. In this letter he refers to the Central Flying School (CFS) that was formed in May 1912 at Upavon in Wiltshire. It was one of the first flying training schools in the country.

You can print the image and transcript below as a Word document (Rich Text Format, 1.48MB, new window).

View the timeline for an outline of John Douglas Hume's life.
Transcript
Calshot Naval Air Station,
Fawley, Hants.
Friday 19 Nov[ember] 1915
p.m.

Dear Mother

Oh day of woe! Alas alack & welladay! etc, etc.
I have had my first smash today. I went up in a Schneider for the first
time today and got up to 7000 feet - my record now - in 20 minutes. Came
down with my engine off at 90 knots - about 110 miles an hour - and landed in
a most delightful sea – waves about 4 feet high. Some landing. I leapt
from one wave to another until the starboard float went & jerked the
wheel out of my hand, the engine picked up and before I could switch off, the machine
slewed round to the right and charged the Calshot light buoy, smashing the
prop. So then I got out and stood on the remaining float & when the
motor boat dashed up at 19 knots I caught their line & made fast. The
moment they began to tow, the machine turned over, so I dived
overboard right into a wire which has left a nice bump on my head and
struck out for the motor boat & clambered on board. It took us an hour
and 40 minutes to tow the machine back, so you may guess I was a bit
cold when I got in, and as the tide runs about 7 knots there was
nothing worth saving out of the mess except the engine. As the machine
costs about £1500 and the engine £950 that's £550 damage to my credit!!
And there is a Flight Commander now at the CFS [Central Flying School] at Upavon who
has 32 smashes to his credit, and boasts of it too!!!

Much love to all

Douglas


(National Records of Scotland reference: GD486/85)