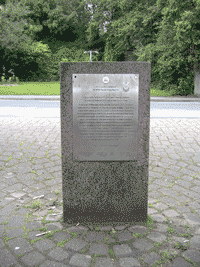 The World Famous Paisley 'Snail in the Bottle' Case
On Sunday 26th August 1928, a warm sunny day during the Glasgow Trades Holiday, May Donoghue travelled from her home in Glasgow to Paisley for the afternoon to meet a friend, and together they visited the Wellmeadow café for refreshments. As May poured the last of her ginger-beer into her glass, a decomposed snail floated out.
The shock experienced by May when the snail fell out of the bottle was followed by a period of prolonged illness that was diagnosed by her doctor as gastro-enteritis and which required her admission to Glasgow Royal Infirmary. Thereafter May instigated a claim for compensation (a legal process) against the café owner, Francis Minghella, and the manufacturer of the ginger beer, David Stevenson, for the shock, illness and consequent loss of earnings which she had suffered. This resulted in the action at the instance of May McAllister or Donoghue against David Stevenson, aerated water manufacturer (National Records of Scotland reference: CS252/2299).
The case was ground-breaking in Scots law, as it established for the first time in Scottish legal history that a manufacturer could be held responsible for the quality of his product, even though he had no direct contact or contract with the consumer.
The case was initially heard in the Court of Session in Edinburgh where the judge, Lord Moncrieff, determined that the manufacturer should be held responsible for the quality of his products and that therefore May Donoghue could proceed to pursue David Stevenson for compensation. However in 1931, David Stevenson appealed Lord Moncrieff's judgement to the Second Division of the Court of Session where a panel of four judges decided that, according to the precedent set by previous cases of a similar nature, the manufacturer could not be held responsible for something that happened to a person who had no immediate contact or contract with him.
If May wished to pursue David Stevenson for compensation, then she had to appeal to the House of Lords to have this second judgement overturned. May proceeded to do this. By the time that this appeal was heard in London, the manufacturer had died and compensation was eventually agreed out of court in 1934.
The case is commemorated in Paisley today by the memorial shown in the illustration above.
The surviving Court of Session records are preserved in the National Records of Scotland. The records relating to the appeal to the House of Lords are preserved in the Parliamentary Archives in London.