The case of Fanny Parker alias Janet Arthur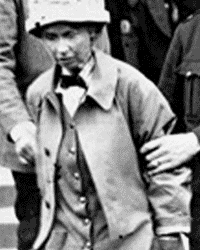 Fanny Parker had been the organiser of the Women's Social and Political Union in Dundee until 1913 and had been imprisoned on several occasions for causing damage to property. Using the alias, Janet Arthur, she appeared in court in Ayr on 9 July 1914 accused of trying to blow up Burns' Cottage in Alloway. She refused to enter the dock and would not recognise the court's jurisdiction. She shouted quotations from Scots Wha Hae and stated 'You Scotsmen used to be proud of Bruce. Now you have taken to torturing women.' Fanny was committed to Ayr Prison pending further inquiry.

While in prison, Fanny went on hunger strike and refused food or drink for four days before she was transferred to Perth Prison to be force fed. She was examined by the prison doctor and judged fit for feeding which took place on seven occasions over the following four days. News of her condition reached her influential family [she was the niece of Lord Kitchener] who negotiated her release from prison on 16 July to a nursing home where she was medically examined and found to be 'in a state of pronounced collapse'. Her case never came to trial as war was declared the following month and all suffragette prisoners were granted amnesty. Fanny wrote an account of her personal experience in the suffragette newspaper Votes for Women. The following image and transcript are an extract from the published article.

Print a copy of the image and transcript (Rich Text Format, 1,6MB, new window).

You can view the full article online and print a transcript of the full article (Rich Text Format, 20KB, new window).
Link to background information about suffragettes in Scotland.
Transcript
Six wardresses held me down and one of them reached forward and slapped my face with, I suppose, the approval of the doctor, as he said nothing. The assistant doctor held my head in a most painful grip.

Steel Gag Used

Dr Watson then tried to force my teeth open with the steel gag, and said that if he broke a tooth it would be my own fault. As he was unable to open my mouth he called for the nasal tube. He tried to force it up one side which is defective, but with all his strength could not force a passage. He succeeded in forcing it down the other nostril, and left it hanging there while he went out of the room. As it was extremely painful, I asked the assistant to remove it, but he only laughed.

Dr Watson returned and fed me. The wardresses continued holding me down so that I couldn't move, and the assistant doctor continued to hold his hands over my mouth and whenever the food came up tightened his grip to prevent me letting it out.

(National Records of Scotland reference: HH16/43/6)