Seventeenth Century Scotland
17th century Scotland looked very different to today: it was predominantly rural, the landscape being made up of clusters of small farms, surrounded by narrow strips of cultivated ground (rigs) in an otherwise barren landscape. There were few trees or hedges, but plenty of bogs, mountains and moorland. There were very few roads, with access generally being by muddy tracks that were frequently impassable due to the weather. Most of the farms were quite small - usually less than 300 acres in total. Individual families lived on as little as 20 acres and survived by subsistence farming.
Agriculture was a community affair where groups of tenants worked together to look after their livestock and shared equipment to grow their crops, mainly barley and oats. Settlements grew up around churches, castles and mills, where local crafts and trades flourished.
The departure of King James to London in 1603 brought about change, particularly for wealthy Scottish landowners. If they wanted to remain part of the King's court and retain their political influence, then they had to follow James to England. As a result, many became 'absentee' landlords. In England, however, they became aware of potential improvements and alternative methods of farming that would fuel the agricultural revolution that followed in the 18th century.
Map of the Kingdom of Scotland, 1610
This map was made by the famous English cartographer, John Speed, and was published in an atlas called The Theatre of the Empire of Great Britain in 1612. Speed combined surveys and historical research to create illustrated maps that were both informative and decorative works of art.
The map shows Orkney and part of Ireland as well as the Scottish mainland, and includes engravings of King James and his wife, Anne of Denmark, with their respective royal coats of arms, engravings of Henry, Prince of Wales and Ireland, and Charles, Duke of York and Albany. The map includes decorative vignettes of ships and sea creatures.
Explore the map in a new window.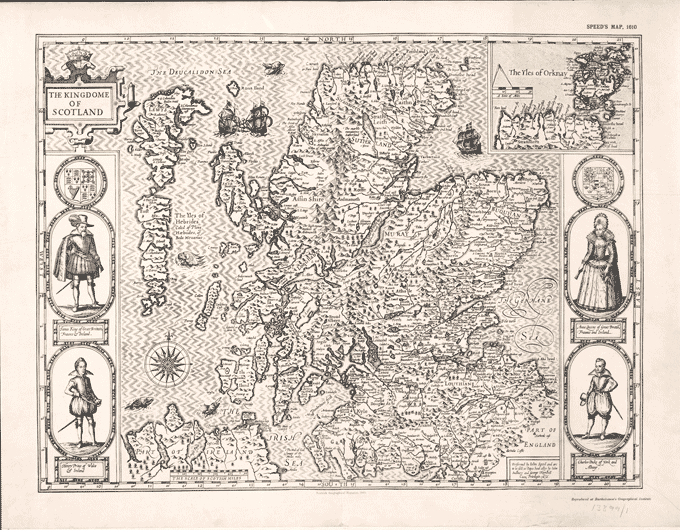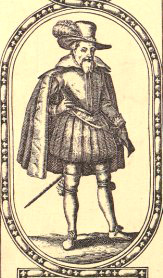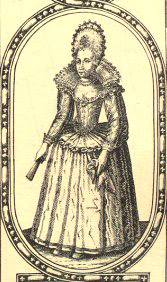 These engravings of the King and Queen provide a glimpse of the court fashion of the period. At the time of the Union of the Crowns, wealthy people devoted a great deal of effort to the way they dressed. Members of the royal court and people who moved in high society wore luxurious clothing. Many of the styles were lavish and flamboyant to reflect the latest styles and colours.
King James is dressed in padded breeches and a doublet with a low waist, tight fitted and stuffed at the stomach and across the shoulders. He wears a plume in his hat and his band [collar] is worn over his cape or cloak, which is attached to his doublet. His legs are covered with stockings or hose to above the knee, supported by a garter, and a rosette hides the instep fastening on his shoes.
Queen Anne wears a pointed stomacher, boned to achieve the rigid elegance expected of court dress. At this period skirts with no front opening were called petticoats. Women would wear a number of petticoats at the same time, depending on the time of year, with flannel petticoats being particularly popular in winter. The word 'skirt' was used to refer to the edging at the bottom of the petticoat, often decorated with braid and just above the hem. The Queen wears a lace-edged band (collar) over her dress and her hair is arranged over a fontange [a tall head-dress]. She wears pearls around her neck and carries a fan and a hankerchief.
(National Records of Scotland reference: RHP 13899/1. Reproduced by permission of the National Library of Scotland.)
Pont's Map of Peebles-shire, 1654
The image below shows part of a map of Tweeddale, an old name for Peebles-shire. It follows the course of the River Tweed and Eddleston Water through lands between Teviotdale and Ettrick Forest. It was drawn by Timothy Pont in 1608 and published in Blaeu's Atlas in 1654. Pont graduated from St Andrew's University in 1583 and became a famous geographer and cartographer. During his lifetime he surveyed large areas of Scotland and produced seventy-seven maps.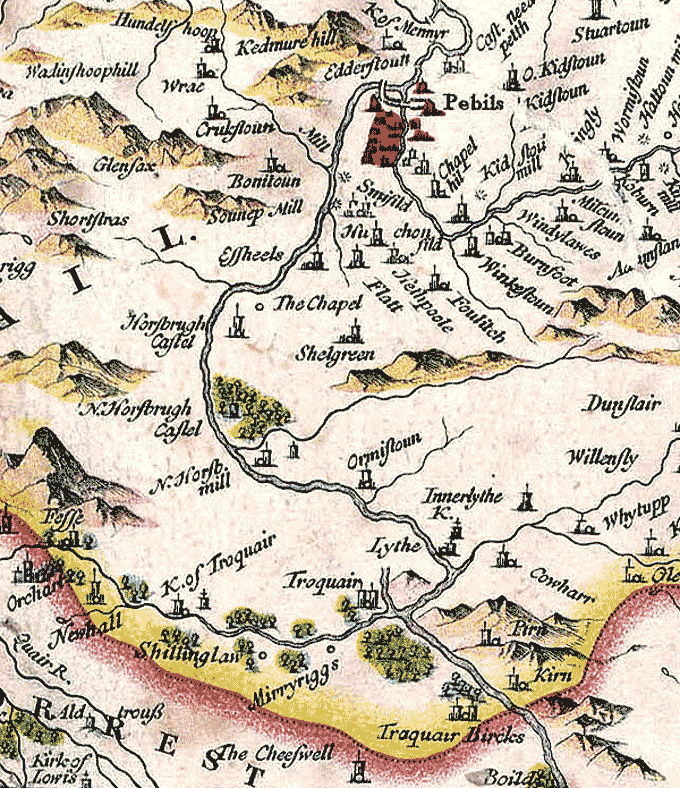 (National Records of Scotland reference: RHP 1096/3. Reproduced by permission of the National Library of Scotland.)