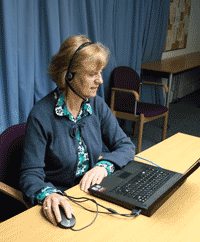 If your school is too far away to visit the National Records of Scotland in Edinburgh for a workshop, book a Glow Meet web conferencing session instead.



The National Records of Scotland has a National Glow Group from which you can access our Glow Meets. You will find our Group listed on the National Glow Site.

To Glow Meet, you will need a computer or laptop linked to an interactive whiteboard, a microphone and webcam, and access to a Glow account. You need to provide us with your Glow username and your school email address so we can add you to our Glow Group. We meet teachers online at least two weeks in advance of the first session to test the link and to finalise the content to be covered.

From 4 September 2013 on the first Wednesday of each calendar month, NRS Education staff will be available in our Glow Meet room to introduce our Glow service and to answer any questions that you have. Please feel free to 'drop in'.



Choose your title.
A full list of topics is available online for Curriculum for Excellence and National Qualifications. Alternatively, you can print off our Schools Programme as an Acrobat PDF KB , new window, or as a Rich Text Format, 1.8MB, new window.


Choose your date(s) and time(s).
Glow Meets are available, by arrangement, between 10:00 and 15:00 on Tuesdays to Thursdays from 4 September 2012 to 28 March 2013.

You can book a single 30-45 minute session that will focus on one aspect of a topic or you can book up to a maximum of three sessions for greater depth. Where a number of sessions are booked, we do ask that pupils undertake some activities in the classroom between sessions.


Make a provisional booking.
Once you have chosen your title, number of sessions and preferred date(s), please phone or email us to make a provisional booking. Advance booking is essential with a minimum of two weeks prior notice.


Confirm your booking.
Download a booking form (Rich Text Format, 1.3MB, new window), complete and return it to us at the address below to confirm your booking. You will receive confirmation by email within 5 working days.
Please note that provisional bookings must be confirmed within two weeks. Cancellations require 24 hours notice.

Education Services
National Records of Scotland
HM General Register House
2 Princes Street
Edinburgh EH1 3YY

Email: education@nas.gov.uk
Tel: 0131 535 1384
Fax: 0131 535 1363