Unit 2: Action Abroad, January-July 1916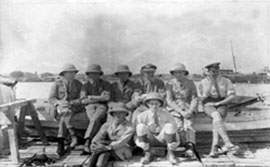 Douglas was posted to Mesopotamia (present-day Iraq) where he flew reconnaissance missions, bombed enemy installations and dropped supplies to allied troops. His letters reveal that in this short period, he experienced the thrills and excitement of front line action and extremes of emotion as he coped with danger, illness and possible death.

View the timeline for an outline of John Douglas Hume's life.