Maude Edwards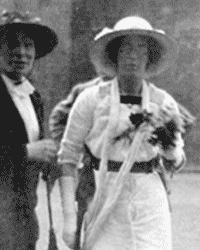 Maude Edwards was sent to Perth Prison in July 1914 to serve a three month sentence for slashing a portrait of King George V which was hanging in the Royal Scottish Academy in Edinburgh. She acted in response to Mrs Pankhurst's failed attempt to lead a deputation to the King at the gates of Buckingham Palace.

She went on hunger strike expecting a medical certificate, confirming she had a weak heart, would exempt her from force feeding. Her case demonstrates the dilemma faced by the authorities while under the scrutiny of the public and the press, and their handling of the situation.

The image shows Maude Edwards (National Records of Scotland reference: HH16/47)

Link to background information on Scottish suffragettes.