Resources from the National Records of Scotland
Introduction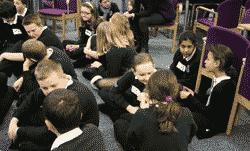 Welcome to our resources which have been created to provide teachers and learners of all ages with access to unique primary sources from the National Records of Scotland and to support the delivery of Curriculum of Excellence and National Qualifications.

Our approach is simple and straightforward. We wish to provide content that can be adapted by teachers to support different topics, themes and areas within the Scottish curriculum at different teaching levels. Our units offer images of original sources, transcripts and background notes. These can be used by teachers or pupils in planning their teaching and learning to support classroom projects and the curriculum.

A thematic approach looking at examples of letters and diaries from the sixteenth through to the twentieth centuries.

A series of resources to enhance our knowledge of and interest in Scotland's wildlife and environment, created for the Year of Natural Scotland, 2013.

Find out about the Scottish Wars of Independence, 1286-1329, and the events surrounding William Wallace, King Robert I of Scotland and the Declaration of Arbroath.

This resource tells the story of King James IV and the events leading up to the Battle of Flodden in 1513.

Investigate archive material relating to King James VI of Scotland and I of England. Study the royal family tree, the King's Great Seal and the Scottish landscape at the time of the Union of the Crowns in 1603.

Find out about the Union of the Parliaments of Scotland and England in 1707, a pivotal moment in Scottish history.

This selection of records from 1909 to 1927 tell the stories of Scottish suffragettes and their impact on society.
This resource supports the study of the domestic impact of the Great War on Scotland's society, culture and economy.

Use these letters and photographs to find out about a young Scottish pilot who served in the Royal Naval Air Service in WWI.

Documents in the Paisley 'snail in the bottle' case, which set a new legal precedent in Scotland for customers' rights and manufacturers' responsibilities.